"

Fun, exciting, nerve-racking and a good time!"
— Student (11 Years Old)
EXPLORE MUSIC
Experiential music education program
         Develops a love, understanding and appreciation of music as an artistic expression
Participation and learning that is dynamic and fun
Musical concepts and rhythm are learned kinaesthetically and internalised through movement, body music, song, games and whole body experiences
     The musical palette is expanded through exposure to music of different genres and origins.
 "I wish you could come back and do more music, it's awesome!"   
-  Student (11 years)
"Music with Sharon is always eagerly awaited and enjoyed!!" 
-  Class 3/4 Teacher
"

Organised, enthusiastic and passionate... (with) excellent feedback from teachers regarding student engagement, participation and learning" - Fiona Cormack
— School Principal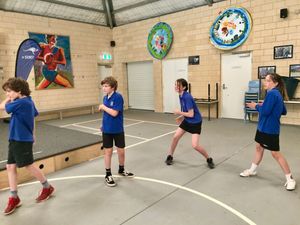 BENEFITS FOR YOUR COMMUNITY
Develops musicality and fosters creativity while improving motor skills: Development of musicality, creativity, gross- and fine- motor skills, rhythmic movement and understanding, physical conditioning, coordination, composition, improvisation and performance skills.  

Improved concentration and self-confidence while fostering positive social values: Improved concentration, memory and perception while developing cooperation, communication and the capacity to listen and create within a group. Combining music, movement and languages develops neural pathways and engages the whole brain!

 Group cohesion and problem-solving:  Bringing participants together in a shared purpose, to create and problem-solve as a group, binding them together in a community with a positive team culture. 
West Australian Department of Education Music Curriculum: Addresses age appropriate ideas, skills, processes and interpretation abilities in the West Australian Department of Education Music Curriculum, in a kinaesthetic, sensory manner with active participation (for schools).